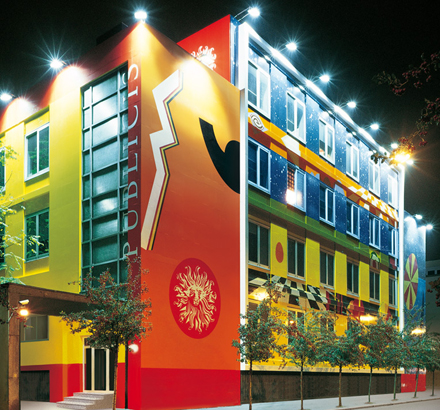 Our Space Lux model was selected by Estudio D2U architects for the Conference venue of the famous building Publicis has in the heart of Milan. This leading Italian advertising agency selected this chair because of its versatility: an auditorium chair that not only features writing tablet but also an innovative mobile system.
The Space Lux, model was customized for this project because the customer required a very particular configuraron: chairs had to be fixed to the riser of the existing steps while being able to be easily removed.
So we modified our Matrix system: groups of 2 and 3 chairs finished with thin plates for the mobile feet manufactured with 90º shape and one front fixing point for the riser.
In terms of finishes, the customer opted for upholstered arms and natural beech for the outer plywood panels of seat & back. Note the anti panic writing tablets added to the chairs installed – despite the reduced dimensions of the chair this auditorium enables spectators to take notes during presentations.