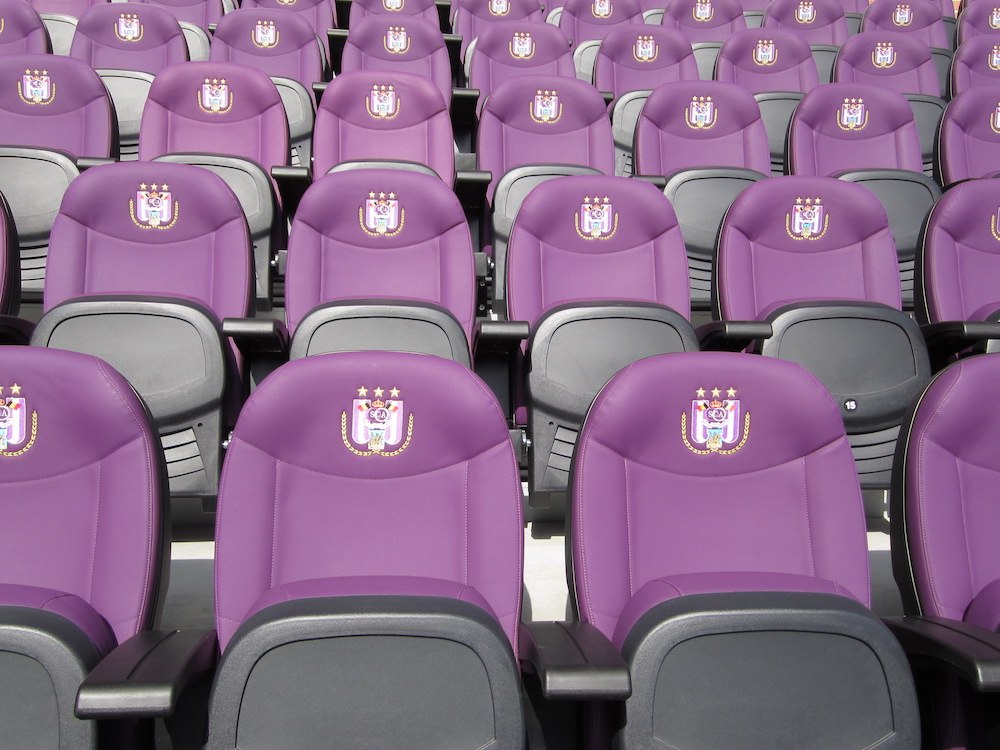 The Constant Vanden Stock stadium was originally built in 1917, then totally refurbished in 1983 and nowadays home of  RSC Anderletch , the most successful Belgium football club – and of of the most famous ones in Europe.
Now the stadium has 30,000 seats, 1,500 of which are VIP and Business locations. A couple of years ago the club decided to renovate its Premium areas since this was the best way to meet not only the UEFA requirements but also the new commercial possibilities these areas could bring to the organization. And when it came to discuss about the best chair, our Baco Sports chair was the model selected.
Check how we solved the problem of lack of space in such small & old steps: we opted for riser fixing combined with a short arm made of polypropylene and of course, an upright position for the back cushion. So, all Premium seating areas are provided with reasonable legroom and clear seat way. Additionally, the cantilevered fixing provided another advantage: cleaning is now easier and faster!
And of course paying attention to details: all chairs were upholstered with detachable covers made of artificial leather and double stitched. The color of this special vinyl for outdoors matched the team color and even the club's logo was embroidered in the middle of the back cushion. Finally, a unique double polypropylene arm was manufactured to improve the spectators' comfort.
Please note our Baco chair, like the rest of our Sports seats, has an inner structure made out of steel for additional stability and resistance for severe public use.