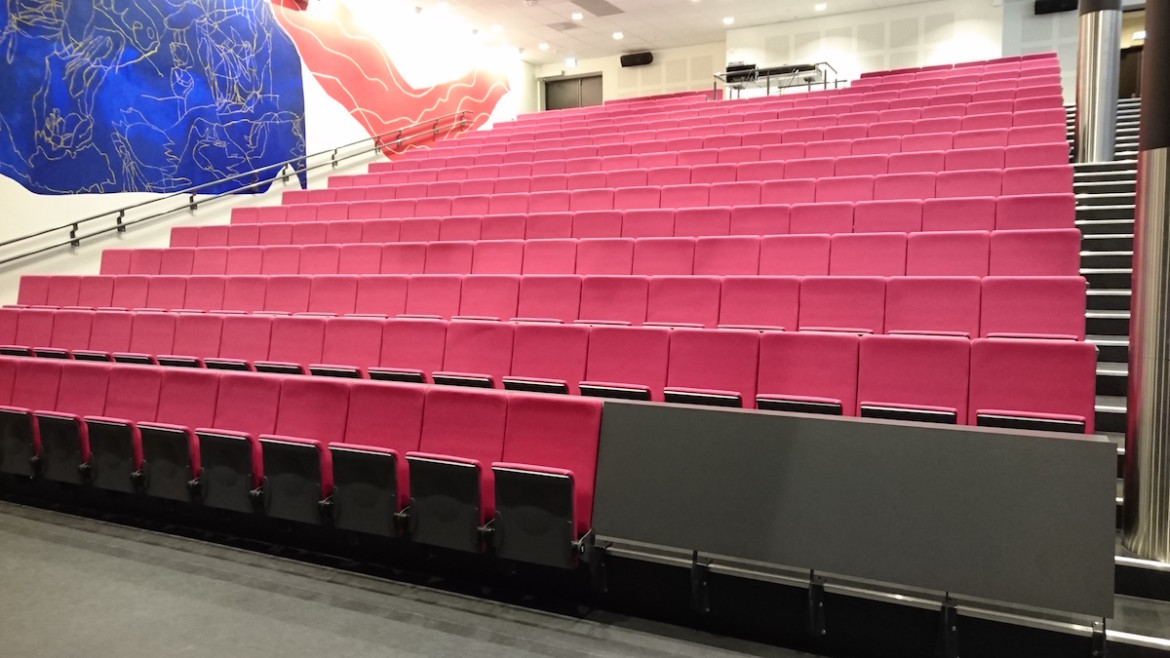 Right after meeting our customer Skanska we noticed this would not be an ordinary job. Not at all. The Oslo Cancer Cluster Innovation Park by Dark Arkitekter was a USD1.5 billion public-private investment that brought together the research, healthcare and industry partners to Oslo. Moreover, it was the vision of Jonas Einarsson to create Europe's leading environment for education, research and industry within oncology, while also shortening the time it takes to develop new cancer medication and diagnostics. But probably the most innovative part of OCCI was the idea of integrating inside the Ullern High School with capacity 900 students & scientists. And there we came with our chairs.
The Institute has a large stadium seating hall that will host meetings, conferences and different training courses. We were asked to provide a comfortable chair that would enhance good visibility and above all, with a writing table fixed on its back. So we picked up our Javier College chair and modified its structure for riser fixing: apart from the fact we got a venue much easier to be cleaned, we managed to improve its current visibility standards. Then we went a little bit further: higher backs for the writing desks to be fixed at the correct height and power outlets under the table as per the requirements of the customer.
And of course we customized the finishings of the chair as per the customer's preferences: first we laminated with a very specific color of melamine all the wooden parts, then we upholstered both seat & back cushions with the spectacular  Phoenix fabric from CamiraFabrics, and finally we painted all metal parts in the closest RAL color to the one used for the wooden parts.
Times are changing for Lecture Theatres too: the old venue used for teaching only is now required to be transformed into a conference hall. And what about the equipment? No blackboards anymore, but tactile multimedia screens – and of course no more uncomfortable wooden benches but ergonomic upholstered chairs with LED lighting and power & data outlets.